Email remains an essential communication tool for any Canadian business.
To present a professional image, your business needs its own custom email domains and addresses.
However, determining the best email hosting provider in Canada for your company can be challenging with so many options.
In this post, we'll explore how Canadian businesses can pick the optimal solution for their email hosting needs.
We'll look at key features to evaluate, top providers in Canada, comparing plans and pricing, assessing reliability and uptime, support options, and more.
With the right email hosting, your business can benefit from professional @yourcompany email addresses, robust mail management tools, secure servers, and top-notch support.
Read on for guidance on choosing the best business email hosting for your needs in the Canadian market.
Key Features to Look for in Email Hosting in Canada
When evaluating business email hosting providers in Canada for your company, there are several key features to look for:
#1. Email Addresses and Accounts
The hosting plan should provide professional email addresses matched to your domain name, such as [email protected].
Multiple addresses and accounts for staff are ideal.
#2. Mailbox Storage
Look for adequate mailbox storage – at least 10-50GB per user mailbox.
Unlimited storage is even better for managing email long-term.
#3. Desktop and Mobile Access
The provider should offer web browser access plus desktop and mobile email apps for convenient access from anywhere.
#4. Email Forwarding and Aliases
Features like email forwarding, aliases, and auto-replies provide flexibility in managing your mail.
#5. Security Protections
Strong spam filtering, virus scanning, and email encryption are essential security protections.
Read also: #4 Safest Email Provider in Canada You Should Know
#6. Contacts, Calendar, Docs
Added tools like contact management, calendars, and docs collaboration are beneficial business utilities alongside email.
#7. Archiving and Compliance
Email archiving, data retention, and compliance features help manage your business email responsibly.
Some key criteria to evaluate for business email hosting:
| Feature | Description |
| --- | --- |
| Email addresses | @yourcompany.com addresses |
| Storage | Adequate per mailbox storage |
| Access | Web, desktop and mobile apps |
| Forwarding/Aliases | Flexible mail management |
| Security | Spam filtering and encryption |
| Collaboration | Contacts, calendar, docs |
| Compliance | Archiving and data retention |
Keep these features in mind when comparing providers and plans for your optimal business email solution.
Top Canadian Email Hosting Providers in Canada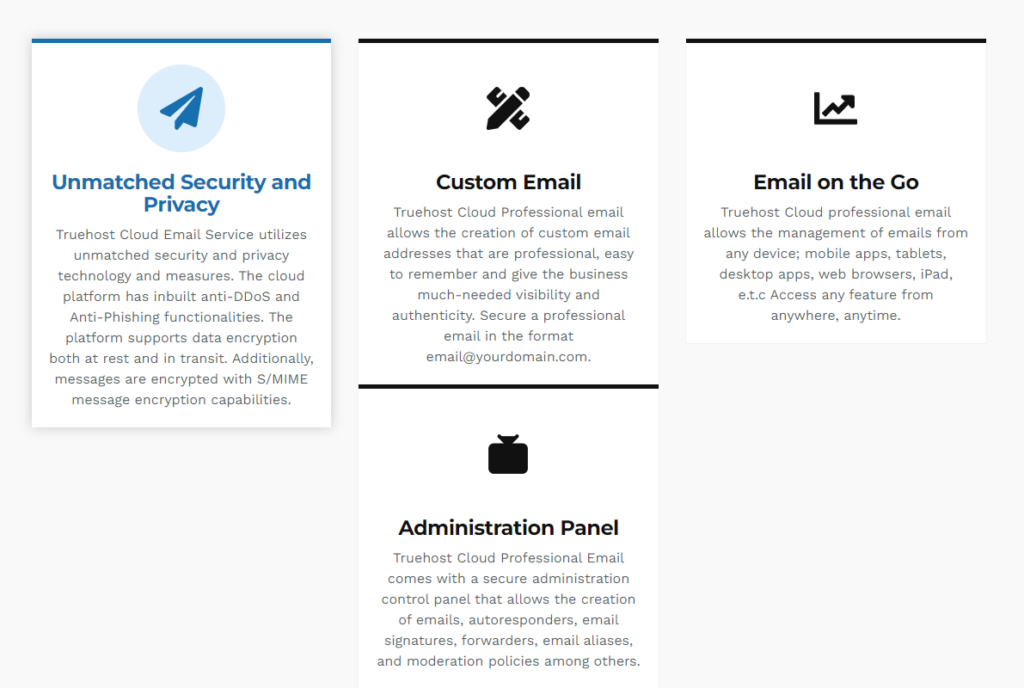 There are a wide variety of business email hosting providers available to Canadian companies.
Here are some of the top options to consider:
Truehost.ca
Truehost has one of the best and cheapest email hosting services in Canada.
For just as low as $1.25 per month, you get the following:
15GB Storage per Account
Web Application Access
Realtime Sync of Data across all Devices
24/07 Expert Support
Premium Antivirus & Spam Guard
Multiple Email Clients -Outlook, Thunderbird, Windows Mail
Contacts Manager
Events Manager
Calendar
Notes
Email Alias
These and more others.
Google Workspace in Canada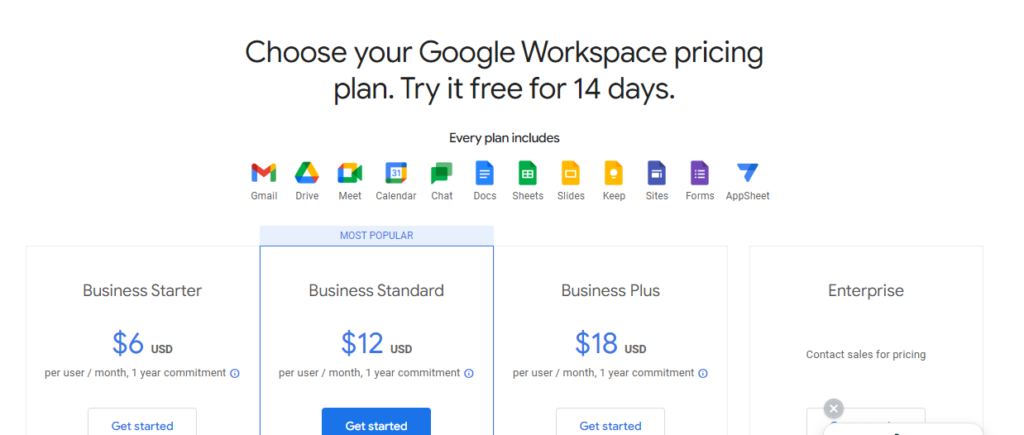 Google Workspace (formerly GSuite) is a popular choice. It offers:
@yourdomain.ca email addresses
100 participant video meetings
30GB+ pooled mailbox storage per user
Gmail interface and apps
Robust admin controls
Standard Support
Google Workspace starts at $8.28 CAD/user/month.
Read also:
Microsoft Office 365 in Canada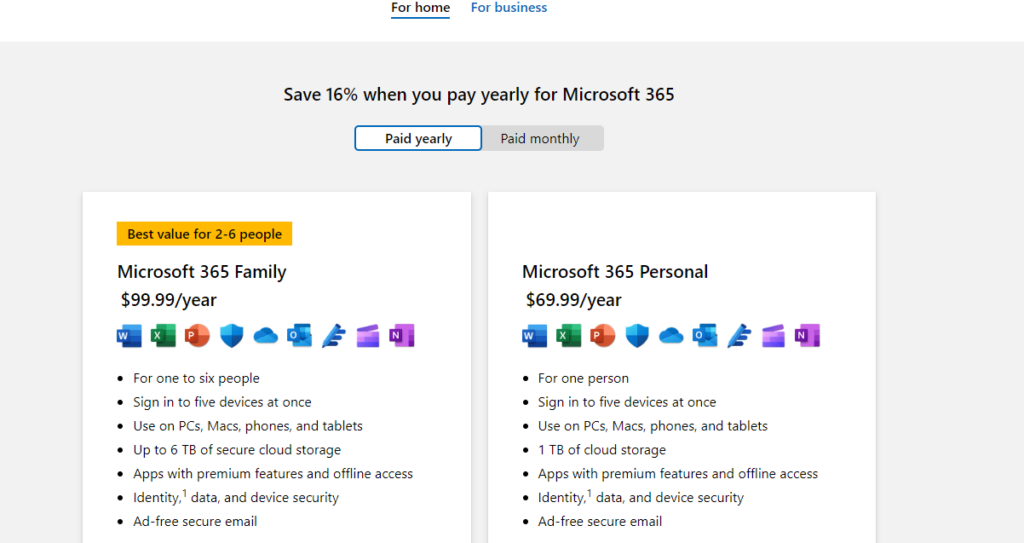 Office 365 Business Premium includes:
@yourdomain.ca emails
1 TB of cloud storage per user
Outlook apps and webmail
Web and mobile versions of Word, Excel, PowerPoint, and Outlook only.
Office 365 starts at $8.28 CAD/user/month.
Read also: Microsoft Email Hosting Plans in Canada: What To Know
Zoho Mail in Canada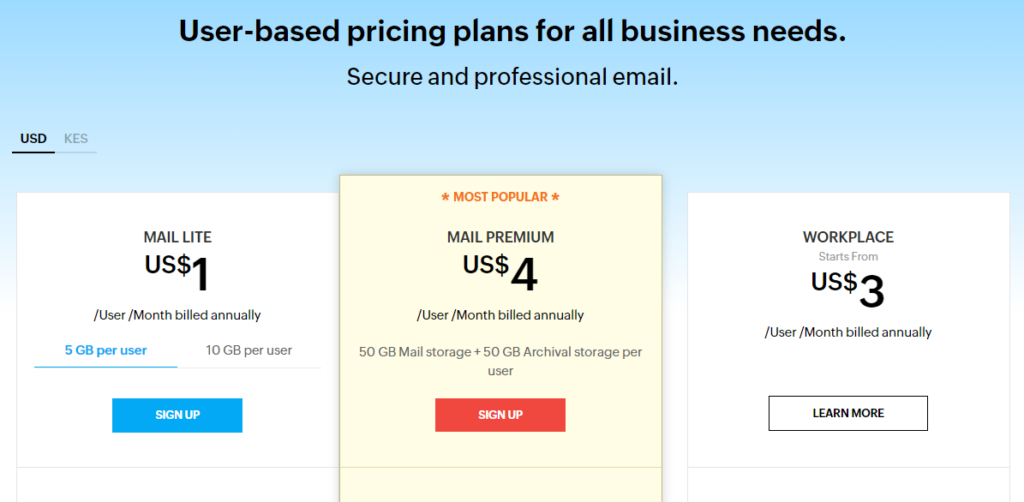 Zoho Mail provides:
@yourdomain.ca emails
5GB storage per mailbox
Integrates with Zoho CRM
Mobile apps
Zoho Mail starts at $1 US/user/month
Read also:
Fastmail in Canada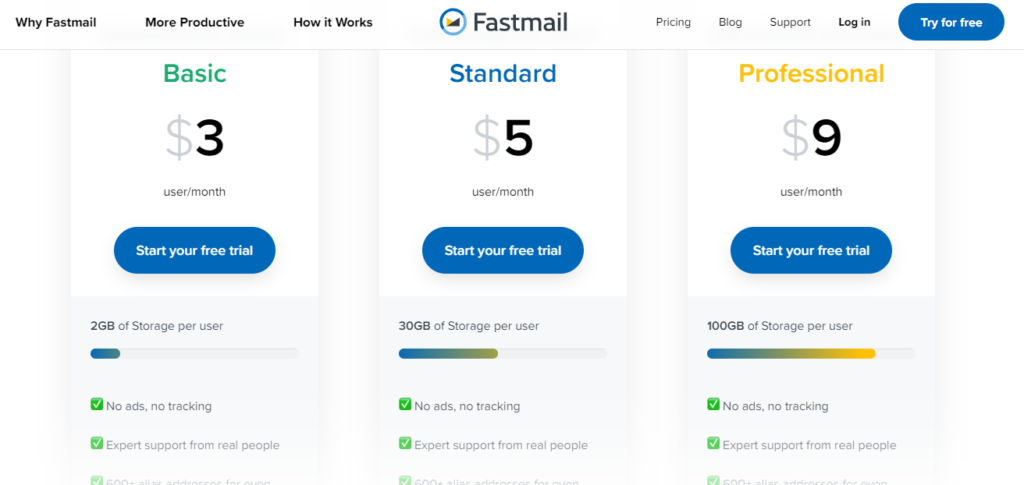 Fastmail is an independent email provider with:
You can't use your own domains (you@yourname) on the basic plan
No ads, no tracking
50GB storage per mailbox
Excellent web and mobile clients
ActiveSync integration
600+ alias addresses
Fastmail starts at $4.14 CAD/user/month.
Rackspace Email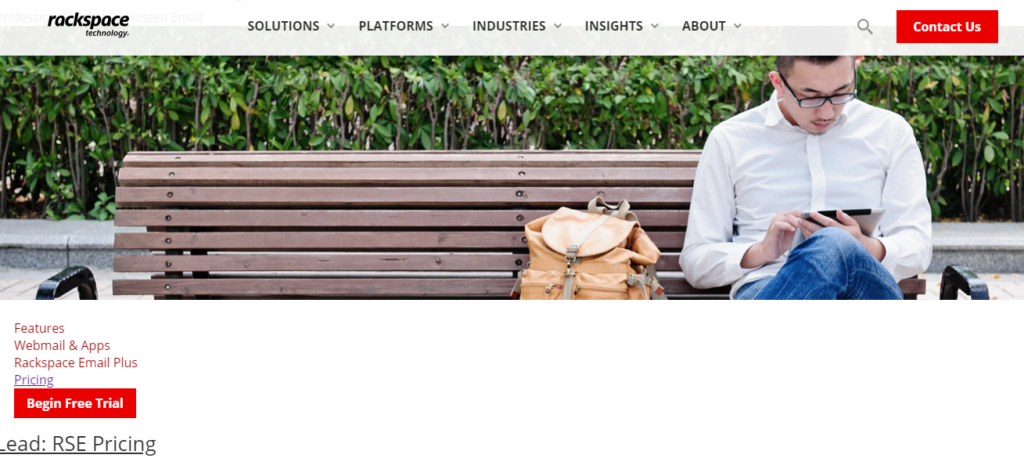 Rackspace email hosting includes:
@yourdomain.ca email addresses
25-50GB storage per mailbox
Security and archiving features
Exchange ActiveSync support
Rackspace email plans start at $4.13 CAD/user/month.
This covers some of the top mainstream and independent business email hosting options for Canadian companies to evaluate based on features, pricing, and reviews.
Comparing Pricing and Plans
When selecting a business email hosting provider, one of the most important factors to compare is their available pricing plans and features.
Here are some key considerations:
Entry-Level vs Advanced Plans
Most providers offer a range of plans from basic email to advanced features.
Entry-level plans provide adequate email for small businesses, while higher tiers add elements like encryption, archiving, larger mailboxes, etc.
Per User Pricing
Pricing is often charged on a per user per month basis.
Entry plans typically start around $3 – $5 CAD per user monthly.
Be sure to calculate for all employees.
Storage Limits
Compare the mailbox storage allotted per user across plans.
Entry-level plans often provide 10-25GB per user, while higher tiers offer 50GB+ or unlimited space.
Free Trials
Many providers offer free trials for testing the service.
Trials range from 14 to 30 days typically.
This allows hands-on evaluation before committing.
Custom Bundles
Some providers allow customizing plans with add-ons or different combinations of features.
This allows flexibility to match specific needs.
Discounts
Look for discounted annual pricing for prepaying yearly rather than month-to-month.
Multiple year packages may offer larger discounts.
| Provider | Low Tier | High Tier | Storage |
| --- | --- | --- | --- |
| Truehost.ca | $1.25/mo | – | 15GB |
| Google Workspace | $7.50 user/mo | $20 user/mo | 30GB – Unlimited |
| Office 365 | $10 user/mo | $22 user/mo | 50GB – 100GB |
| Zoho Mail | $2 user/mo | $8 user/mo | 15GB – 50GB |
| Fastmail | $5 user/mo | $10 user/mo | 50GB – 500GB |
Comparison shopping plans and pricing is essential to find the best value for your business email needs and budget.
Assessing Reliability and Uptime
Any business relying on email needs an email hosting provider with excellent reliability and uptime.
Here are some tips for assessing options:
Review Uptime Statistics
Look for providers that publish detailed uptime statistics and records.
Average uptime over a year should be 99.9% or better for quality providers.
Research Reviews
Check third-party reviews and reports for major outages or downtime issues.
Problems here can indicate unreliable services.
Ask About Redundancy
Email vendors should have redundant servers and data centers to failover and prevent downtime when issues occur.
Check Status Pages
The best hosts will provide a public status page detailing any ongoing issues and outages with their services.
Confirm Availability SLA
Review the Service Level Agreement – this should guarantee a minimum uptime, such as 99.95% yearly uptime.
Look for RTO/RPO
Ask about Recovery Time Objective and Recovery Point Objective – how quickly can they recover from downtime and what data is at risk.
Request an Uptime Report
You can request a custom uptime report from a provider covering their statistics for overall, web and mobile apps, etc.
With mission critical business functions like email, lack of reliability and downtime can have major consequences.
Vet providers thoroughly and don't assume major brands have the best uptime.
Get assurances about redundancy, SLAs, and recovery processes.
Support and Ease of Use
To maximize the value of a business email hosting solution, look for providers that offer excellent support and ease of use:
Self-Help Resources
All providers should offer knowledgebases, user forums, and video tutorials to help learn the service.
Setup Wizards
Opt for hosts with guided setup wizards to easily configure your domain, users, settings when starting.
Live Chat Support
Live chat for immediate assistance when you need help or have questions about the service.
Phone and Email
Phone and email ticketing should be available as contact options besides chat for more in-depth issues.
Proactive Monitoring
Some providers will proactively monitor and notify you about issues like disabled accounts or bouncing emails.
Admin Interface
The admin console and settings should be intuitive and easy to navigate with responsive customer support.
User Friendliness
Assess the interface for end users – is the webmail and mobile experience polished and easy to use daily?
| Provider | Chat | Phone | Ticketing | Proactive |
| --- | --- | --- | --- | --- |
| Truehost.ca | Yes | Yes | Email/portal | Strong |
| Google Workspace | Yes | No | Email only | Moderate |
| Office 365 | Yes | Yes | Email/portal | Moderate |
| Zoho Mail | Yes | Yes | Email/portal | Minimal |
| Fastmail | Yes | Yes | Email | Strong |
Don't underestimate the value of customer support and user experience.
An email host can have great technology but still frustrate customers.
Test support channels and assess user friendliness.
Key Takeaways
Quality email hosting is essential for any Canadian business to present a professional image with custom addresses.
Top features to evaluate include email accounts, storage space, access options, forwarding, security protections, collaboration tools, and archiving capabilities.
Leading providers for Canadian businesses include Google Workspace, Microsoft Office 365, Zoho Mail, FastMail, and Rackspace Email.
Compare pricing plans across providers and account for entry-level versus advanced features, per user costs, storage limits, discounts, and free trials.
Carefully assess uptime history and redundancy capabilities – look for SLAs of 99.9%+ availability to ensure reliability.
Don't overlook customer support quality and ease of use – a host can have great technology but still frustrate users.
Taking the time to thoroughly evaluate options will help you select the ideal email hosting provider for your Canadian business at the best value.