Getting a personalized email address in Canada can be a great way to showcase your personality online and make your communications more memorable.
With the rise of free email providers like Gmail, Outlook, and Yahoo, many people have email addresses that consist of random numbers and letters assigned to them.
A personalized email with your name or business allows you to stand out.
There are many options nowadays for obtaining a customized email address that fits your needs and preferences.
In this post, we'll look at the benefits of having a personalized email, how to get your own, customizations you can make, using it professionally, security factors to keep in mind, and some top providers to consider.
Read on to learn how a personalized email can improve your online presence!
Benefits of a Personalized Email Address in Canada
Having a customized email address comes with many advantages compared to a generic one from a free provider.
Here are some of the top benefits:
Memorable and recognizable – A personalized email with your name makes you far more memorable and recognizable to people you email frequently. It's much easier for contacts to remember [email protected] versus a random mix of numbers and letters.
Professionalism – A customized address looks more professional for business or career communications versus using a free email tied to your ISP.
Branding – A personalized email reinforces your personal or business brand. It's a great branding asset to have an email match your company or website domain.
Credibility – An email with your own name or business domain comes across as more credible and legitimate versus a free email address.
Control and portability – With your own domain, you control the address and can keep it for life. You can switch email providers without losing your personalized address.
Security – A unique domain email can be more secure when properly managed compared to some free email platforms.
Some key advantages of a custom email in Canada:
| Benefit | Description |
| --- | --- |
| Memorable | People will remember your name or brand email |
| Professional | Looks more professional for business |
| Branding | Reinforces your personal or business brand |
| Credible | More credibility than free email addresses |
| Control | You fully control your email address |
| Secure | Can be more secure when properly managed |
Having your own personalized email address in Canada provides many upside compared to generic free email accounts.
It's a great way to stand out and reinforce your own brand.
How to Get a Personalized Email Address in Canada
There are a variety of options for obtaining your own customized email address these days.
Here are some top ways to get a personalized email in Canada:
#1. Use Your Domain Name
If you already own a domain name for your personal name or business, you can easily configure it to host email addresses.
For example, if you own "johnsmith.com" you can make email addresses like [email protected].
This is a great way to match your email to an existing brand domain.
Most domain name registrars provide basic email forwarding or hosting options along with domains.
Popular registrars like Truehost.ca, GoDaddy or Namecheap have tools to create professional emails for your domains.
#2. Use Email Hosting Plans in Canada
There are many professional email hosting providers that offer customized address and full mailboxes.
Options like Google Workspace, Zoho Mail, and FastMail allow you to use your domain name for emails or get professional addresses on their domains.
For example, you could get [email protected] with a Zoho Mail paid plan if you don't have your own domain.
Paid plans typically start around $5/month.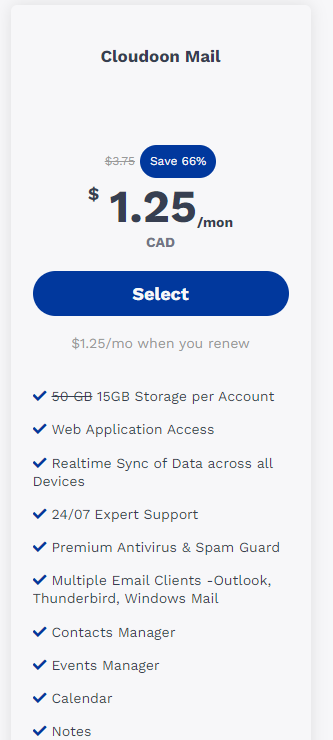 But ours starts at $1.25 per month!
#3. Create an Email with Gmail or Outlook
Free options from major providers like Gmail and Outlook allow you to create custom emails with your own name.
For Gmail, you can add periods or additions to usernames:
Outlook lets you add a "+" tag to usernames:
While not as professional as a paid domain name, these free options can help personalize free accounts.
#4. Use an Email Forwarding Service in Canada
There are email forwarding services like AnonAddy and SimpleLogin that allow you to create unlimited custom aliases.
These don't provide full personal mailboxes, but let you forward emails from professional looking addresses.
For example you could do [email protected] and forwards go to your real inbox.
These aliases start at around $1/month.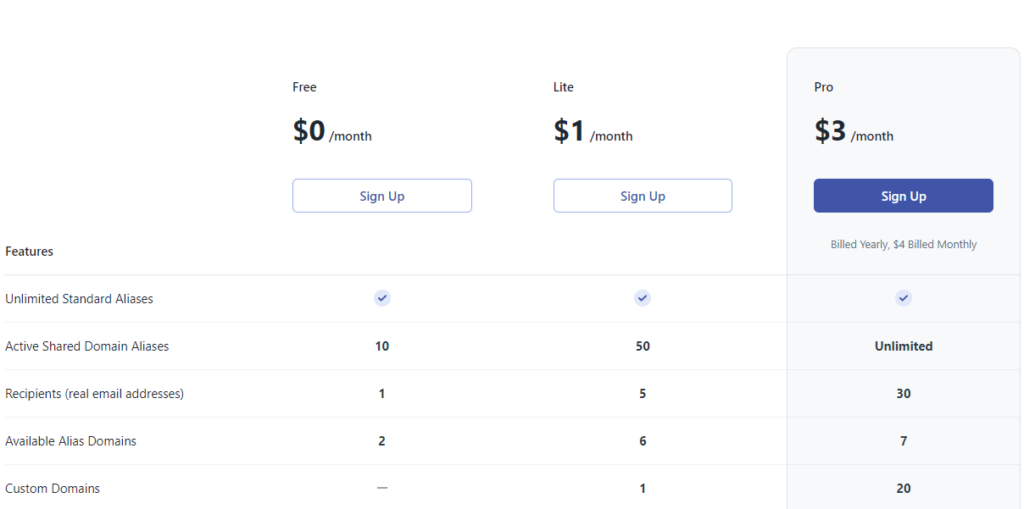 #5. Buy an Existing Email Address
There are some services that allow you to buy existing personalized email addresses from their domains.
This allows you to get a custom name without owning a whole domain.
Although we don't recommend this at all!
You don't know what you are getting and what it has been used for in the past.
So just try the other mentioned ways to get personalized email address in Canada!
In summary, you have several options to get a custom email from using your own domain name, signing up for a professional email service, creating an alias with a forwarding service, or buying a premade personalized address (again, not recommended).
With a little effort, you can get an email that fits your brand and personality.
Customize Your Personalized Email Address in Canada
Once you have obtained a personalized email address, there are additional ways you can customize and configure it to match your needs:
Format and Structure
Carefully consider the structure and format of your custom email address.
Some options:
Choose something easy to remember and share.
Avoid overly complex names.
Match Your Domain
If you have your own domain like yourname.com, make sure to create emails that match like [email protected].
This helps reinforce branding and recognition.
You can also match company domains, like [email protected].
Multiple Addresses
Consider making multiple custom addresses on your domain for different purposes:
personal@
info@
contact@
sales@
support@
Multiple emails like this scale well and look very professional.
Use a Consistent Format
When making numerous custom emails, follow a consistent naming format like:
| Email | Purpose |
| --- | --- |
| john@ | Personal account |
| contact@ | General inquiries |
| sales@ | Sales inquiries |
| support@ | Support inquiries |
A format like this is easy to remember and maintain over time.
Forwarding and Aliases
Use email forwarding and aliases to increase flexibility:
Send support@ and sales@ to your main inbox.
Make firstname@ or hello@ aliases.
Forward emails to your mobile or alternate emails.
Forwarding and aliases let you customize without needing separate inboxes.
We provide this kind of service.
Also, popular providers like Zoho, Google Workspace, and Outlook support advanced forwarding tools.
Change Anytime
Don't worry about getting it perfect immediately.
You can change, add, or remove custom emails and aliases at any time.
Start simple and evolve your address over time.
With your own domain, you have full control to customize your personalized email to your exact preferences.
Take advantage of this flexibility.
Use Your New Email Address Professionally
Once you have a shiny new personalized email address in Canada, here are some ways to use it effectively for professional purposes:
Update Your Resume
Your resume is a perfect place to showcase a professional custom email.
Replace any old ISP addresses with your new one.
For example:
John Smith
Email: [email protected]
This small change instantly makes your resume and candidacy look more polished.
Business Cards and Stationery
Any business cards, stationery, or letterheads should prominently feature your personalized email.
This reinforces branding and professionalism.
Make sure your individual name and overall brand emails match across all materials.
Consistency is key.
Website and Social Media
Your personalized email in Canada should be front and center on your website and social media business profiles.
Feature it prominently:
In your website header/footer navigation.
As part of your website contact page.
As your main email in social media profiles.
This ensures its visibility as an essential contact tool.
Email Signatures
In your professional email signature, make your custom address stand out:
John Smith
Founder & CEO, Smith Consulting
[email protected]
A clean signature formatted like this gives your email top billing.
Formal Introductions
When introducing yourself or your business in formal communications, highlight your personalized email:
Actively sharing the email reinforces it as a professional point of contact.
Anywhere you would normally share contact information for business purposes is a great place for your new custom email address.
Make it a core part of your brand identity.
Security Considerations for Personalized Emails in Canda
While personalized emails provide many benefits, there are some security factors to keep in mind:
a). Email Provider Security
Carefully vet any email providers that will host your custom address.
Look for providers with:
Encrypted email transmission.
Two-factor authentication.
Strong spam filtering.
Quick security update deployment.
Top business providers like G Suite or Office 365 offer excellent security.
Do diligence on lesser known hosts.
b). Unique Passwords
Always use unique, complex passwords for your custom email accounts.
Never reuse passwords across multiple sites or emails.
Enable two-factor authentication (2FA) wherever possible for an added layer of security.
c). Beware Phishing Attempts
Your personalized email on your own domain can be targeted by phishing attempts and scams.
Be extra cautious with unsolicited emails.
Never enter your login credentials if requested in an email.
Always go directly to the site if you want to log in.
d). Secure Your Domain
Take steps to secure your domain name that hosts your custom email:
Use domain privacy protection to hide your info.
Enable domain lock to prevent unauthorized transfers.
Create backup domain user accounts.
A secure domain shields your email as well.
e). Monitor Activity
Regularly monitor account activity in your custom email:
Review recent emails and logins for suspicious activity.
Use email audit logs if available to track access.
Set up login alerts to notify you of web or app logins.
Proactive monitoring helps detect issues early.
While adding a layer of branding and personality, a personalized email should still be treated with the same security precautions as any professional email account.
With good email hosting in Canada and secure access habits, you can safely use your custom address for all your professional correspondence.
Key Takeaways
A personalized email address with your name or brand provides many benefits over generic free accounts. It makes you more memorable, professional, and credible.
You can create custom emails using your own domain name, through professional email hosting providers, with free options like Gmail or Outlook, or with an email forwarding service.
Carefully structure your custom email and match your domain for branding purposes. Use consistent naming formats across multiple addresses.
Updating your resume, business cards, website, and email signature are great ways to start using your new personalized email professionally.
Take steps to ensure email security by using strong passwords, enabling two-factor authentication, vetting providers thoroughly, and monitoring activity.
With the proper setup and security precautions, a personalized email address can take your professional correspondence to the next level.
Read also: