With the rise of web hosting services, control panels have become an essential tool for managing websites and servers. cPanel and CyberPanel are two of the most popular open-source control panels for Linux-based web servers.
Deciding which one is better can be difficult.
This article provides a detailed comparison of cPanel and CyberPanel – their features, performance, pricing, and overall pros and cons.
Read on to find out if CyberPanel is a viable alternative or even an improvement over the industry-standard cPanel.
Overview of cPanel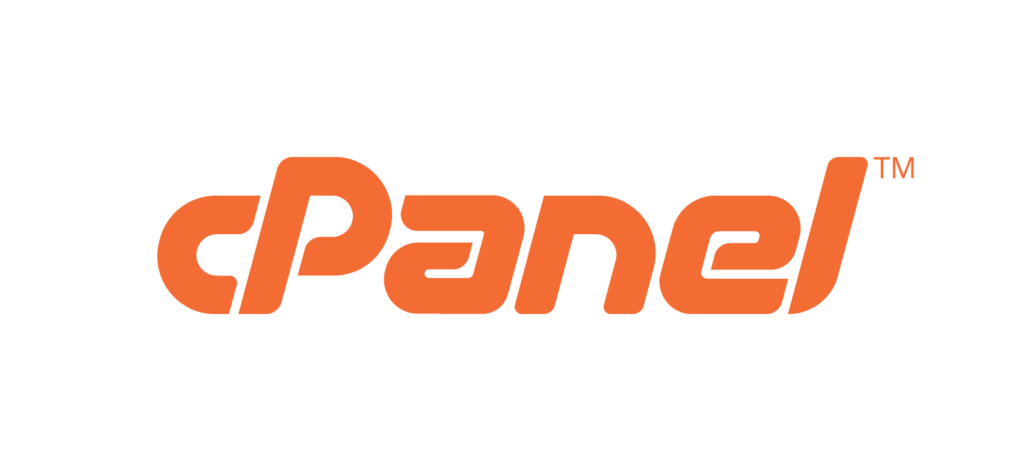 cPanel is one of the most widely used web hosting control panels. Created in 1996 by Nick Koston, cPanel aims to provide an intuitive graphical interface to simplify website and server management.
Some key facts about cPanel:
Works with Apache, NGINX, and LiteSpeed web servers
Supports hosting environments like VPS, dedicated servers, and cloud instances
Used by over 70% of web hosts worldwide
Powers over 70 million domains
Available in 11 languages
Actively developed and maintained by cPanel Inc.
cPanel interface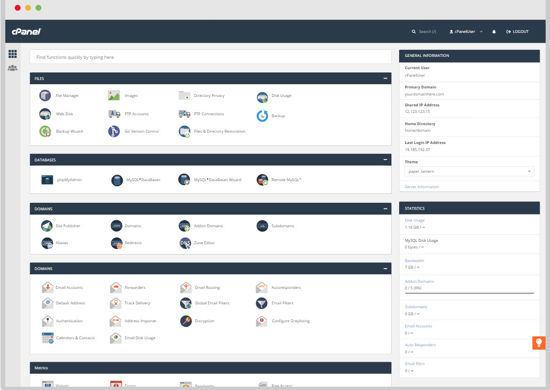 The cPanel interface arranges various web server management tasks into an easy-to-navigate dashboard.
Some of the main sections in cPanel are:
Email – Webmail, email accounts, forwarding, autoresponders
Files – File manager, FTP accounts, directory privacy
Databases – MySQL databases, PHPMyAdmin access
Domains – Addon domains, subdomains, domain pointers
Security – SSL certificates, IP blocker, mod_security
Advanced – Cron jobs, redirects, .htaccess editor
In addition to these tools, cPanel also includes features like:
Site Builder – To build websites with drag and drop simplicity
Spam Assassin – Powerful SPAM filter for emails
Raw Access – Terminal access to the server
Integration – APIs for third-party integrations
cPanel advantages
Intuitive interface for beginners
Excellent documentation and community support
Works great for shared hosting and resellers
Packed with all essential web server features
Actively updated and secure
cPanel pricing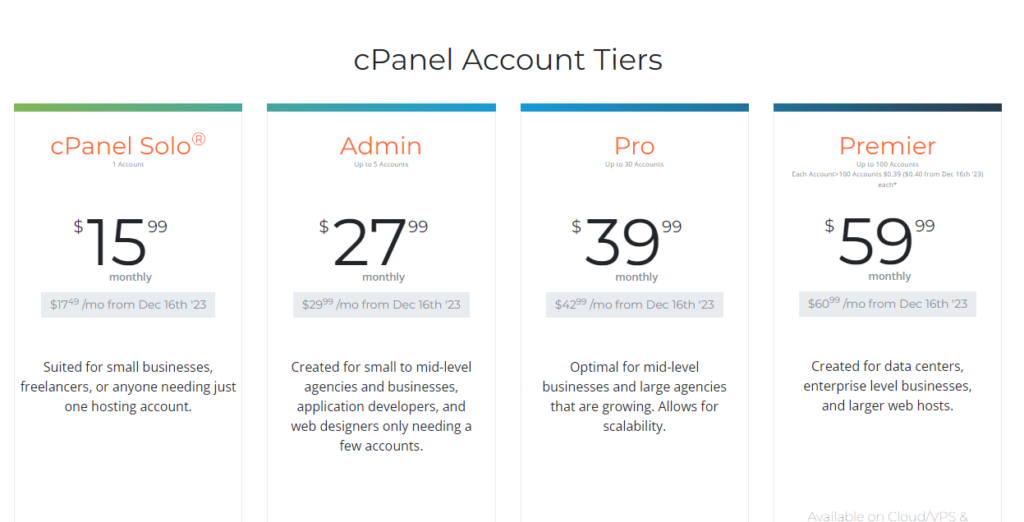 cPanel licenses are sold only through web hosts, not directly to end-users.
cPanel pricing varies based on:
Type of server – Dedicated, VPS, cloud
Number of accounts hosted on the server
The average cost is $15 – $59 per month per account.
Volume discounts available.
Overall, cPanel is a full-featured, reliable control panel suitable for hosting companies, web agencies, resellers, and end-users.
The only downside is the cost, which may seem excessive for personal website owners.
Overview of CyberPanel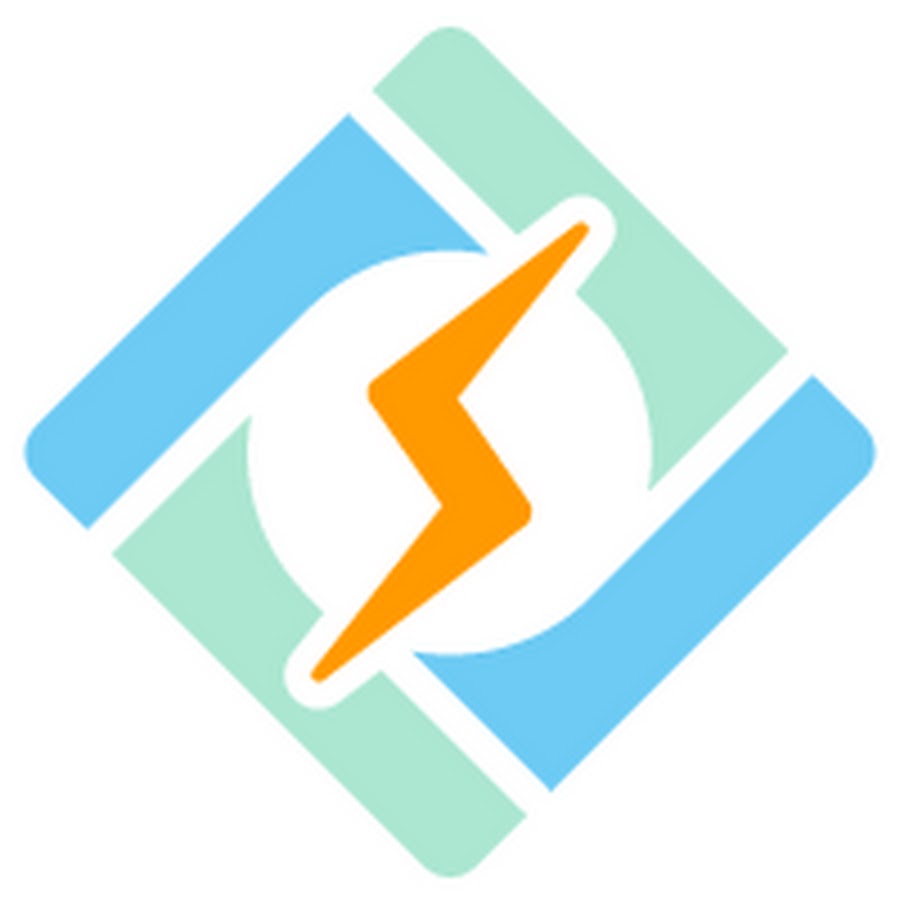 CyberPanel is a relatively newer open-source web hosting control panel based on CentOS/RHEL.
Developed by an IT company in Pakistan, CyberPanel aims to offer an alternative to cPanel and Plesk for Linux hosting providers.
Some key facts about CyberPanel:
Created in 2016, active development since then
Compatible with CentOS 7 and CentOS 8
Supports Apache, LiteSpeed, NGINX web servers
Can be installed on VPS, dedicated servers, and cloud instances
Used by over 1500 hosts worldwide
Completely open-source under GPL v3 license
Available in 6 languages
CyberPanel interface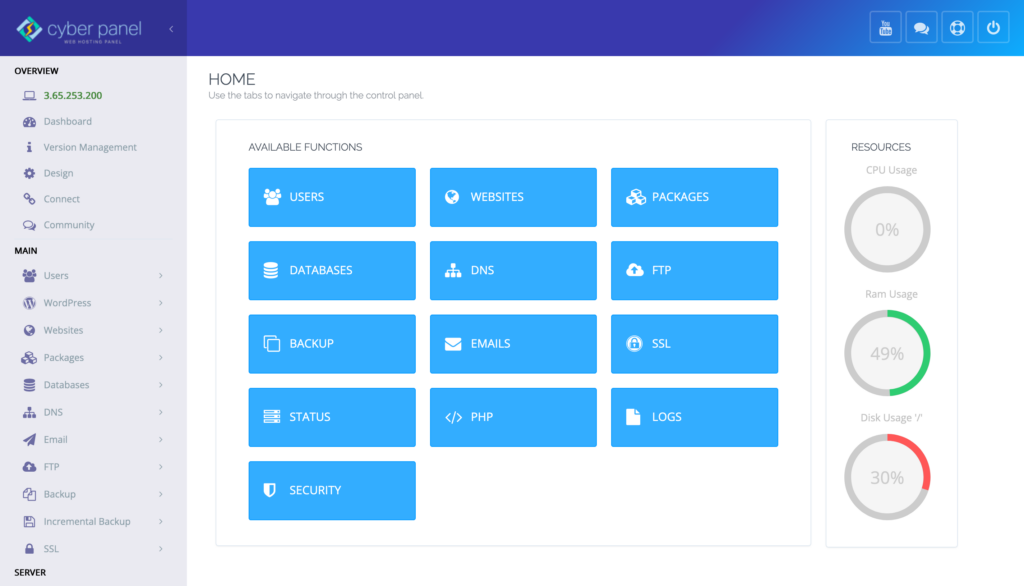 CyberPanel provides an intuitive dashboard to manage different aspects of a website/server:
Website – Add sites, PHP versions, domains, SSL
Hosting Plans – Create shared hosting plans
Email – Email accounts, forwarding, spam filter
FTP – Manage FTP accounts and credentials
Databases – MySQL databases with phpMyAdmin
Logs – Access and error logs
Server Config – Packages, services, firewall, backup
CyberPanel is designed to help hosting providers:
Provision multiple hosting packages
Create and manage customer accounts
Allocate resources like disk space, bandwidth
Handle billing and payments
Provide support to customers
For end-users, CyberPanel includes:
Site creation wizard
Custom PHP version selection
Email accounts and spam filter
SSL certificates
CDN and cache options
CyberPanel advantages
Open-source and free to use
Intuitive UI suitable for beginners
Active development and community support
Great for unlimited hosting plans
Lots of integration options and APIs
Self-healing functionality for auto recovery
CyberPanel pricing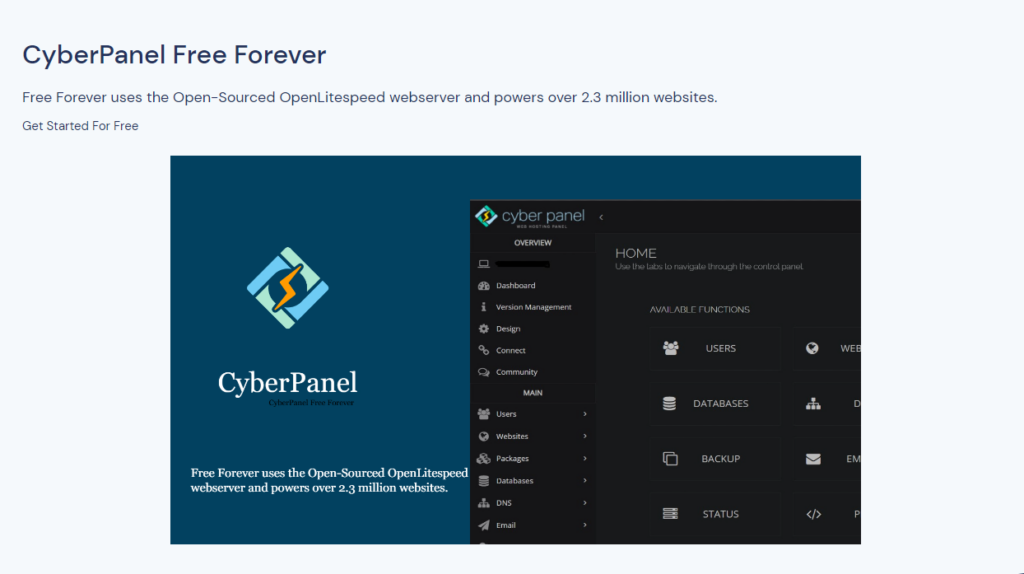 CyberPanel is completely open-source and free, even for commercial use. Paid enterprise support plans are available that include:
Premium support over email and phone
Assistance with installation, upgrades, migrations
Additional professional services
Overall, CyberPanel offers a compelling open-source alternative to paid control panels like cPanel.
The open-source model makes it very cost-effective for hosts to deploy and manage unlimited hosting plans.
CyberPanel vs cPanel: Key Feature Comparison
Now that we have an overview of both cPanel and CyberPanel, let's compare some of their key features and capabilities:
User Interface
cPanel provides a polished, professional interface designed for multiple types of users. Navigation and controls are intuitive and consistent.
CyberPanel also has a clean, well-organized interface. The design is relatively simple but gets the job done.
Ease of Use
cPanel is extremely easy to use even for beginners. The UI layout and terminology matches industry standards.
CyberPanel is aimed more towards hosting providers. The interface has a learning curve for general users.
Dashboard
The cPanel dashboard displays useful server stats/info and shortcuts to commonly used tools.
CyberPanel focuses mainly on account management from the dashboard. Display of server resources is minimal.
Hosting Account Management
cPanel allows creating and managing hosting accounts, allocating resources like disk space and bandwidth.
CyberPanel excels at hosting account management with capabilities to create packages and manage unlimited accounts.
Security Features
cPanel provides a security center, SSL, firewall manager, mod_security, and more security tools.
CyberPanel also includes SSL, firewall manager, security alerts. Additional hardening recommended.
Email
cPanel offers extensive email features including webmail, accounts, spam filtering, autoresponders, and more.
CyberPanel also provides webmail, email accounts, spam assassin filter. But fewer advanced email features.
Backups
cPanel supports full and incremental server backups. Easy to configure backup locations and schedules.
CyberPanel also includes server backup capability with backup retention settings.
Scalability
cPanel can scale to manage tens of thousands of hosting accounts on a server.
CyberPanel can also handle thousands of accounts but may require additional tuning for maximum performance.
Support and Documentation
cPanel provides excellent documentation, community forums, chat support, and paid support plans.
CyberPanel documentation needs improvement. Offers community support and paid enterprise support plans.
Third Party Integration
cPanel provides APIs/modules to integrate with other apps like WHMCS, billing software, analytics, and more.
CyberPanel also offers REST APIs and WHMCS modules for integration.
CyberPanel vs cPanel: Performance Comparison
When choosing a control panel, performance is an important consideration.
Slow control panels can negatively impact the website and server.
Let's see how cPanel and CyberPanel compare in terms of performance and resource utilization.
Impact on Web Server
cPanel is quite lightweight and optimized to run efficiently alongside Apache and LiteSpeed.
Minimal impact on web server performance observed.
CyberPanel can be slightly resource intensive, but web server performance impact can be reduced through tuning.
CPU and Memory Usage
cPanel maintains low CPU and RAM usage even when managing hundreds of accounts on a server.
CyberPanel may use more CPU and RAM in certain configurations. Some hosts enable CPU pinning to minimize resource usage.
Page Load Time
cPanel dashboard and pages load quickly with snappy navigation.
CyberPanel can feel slightly slower and less snappy when loading pages.
This also depends on server resources.
Storage and Disk IO
cPanel requires minimal disk space for installation.
Overall disk IO impact is low.
CyberPanel may have higher disk space needs.
Can improve disk IO performance by moving MySQL to a dedicated volume.
Backups
cPanel backup process is relatively fast and bandwidth friendly.
Backups have little impact on server performance.
CyberPanel backups tend to be slower and resource intensive at high backup frequencies.
Schedule backups during off-peak hours.
User Activity
Even with hundreds of active accounts, cPanel maintains excellent performance due to process isolation and optimization.
CyberPanel also handles user activity decently, but may have slower response times with 100s of active accounts.
Scalability
cPanel excels in scalability benchmarks even with thousands of users.
CyberPanel can work well for up to 500 accounts per server.
Beyond that, performance testing recommended before scaling further.
Control Panel Upgrades
cPanel upgrades are seamless with minimal downtime, even for major version updates.
CyberPanel upgrades can take servers offline for extended periods depending on the update.
Overall, cPanel delivers slightly better performance across metrics like web server load, CPU usage, scalability and user activity.
But CyberPanel can match cPanel's performance with proper optimization and sufficient resources.
CyberPanel vs cPanel: Pricing Comparison
The pricing model for cPanel and CyberPanel is quite different given their proprietary vs open-source nature.
Here's an overview of their licensing costs:
cPanel Pricing
Only sold via web hosts, not directly to end-users
Price based on server type – Dedicated, VPS, Cloud
Charged per account based on number of sites hosted
Volume discounts available for multiple servers
Average cost around $15 – $45 per account monthly
Perpetual license with no annual fees
CyberPanel Pricing
Completely open-source and free to download
No mandatory pricing or licensing
Paid enterprise support plans available
Support plans priced monthly or annually
Starts at €175 per month. Volume discounts offered.
Self-Hosted Servers
For self-hosted servers, cPanel is quite expensive – $15+ per month recurring cost.
CyberPanel has zero cost for self-hosted usage making it very appealing.
Shared Hosting Servers
On shared hosting servers, cPanel volume discounts can bring down costs. Around $8 – $15 per account monthly.
CyberPanel allows launching shared hosting servers at zero license cost. Savings can be passed on to users.
Reseller Hosting Platforms
cPanel is the go-to choice for reseller hosting platforms due to branding and support. White-label options available.
CyberPanel works well for reseller hosting but lacks the strong brand recognition of cPanel currently.
Dedicated Servers
For dedicated servers focused on a few large clients, cPanel cost may be justifiable.
CyberPanel brings down total cost for dedicated client servers.
Overall Cost Per Account
The money saved on control panel licensing with CyberPanel means hosts can pass on savings to end-users.
Open-source stacks also appeal more to technical users who don't want to pay a recurring license fee.
While cPanel pricing may seem expensive, hosts are able to offset costs by packaging it along with hosting plans.
But CyberPanel offers massive cost savings potential, especially for hosts focused on unlimited shared hosting.
CyberPanel vs cPanel: Key Takeaways and Recommendations
Here are some key takeaways from our in-depth cPanel vs CyberPanel comparison in Canada:
cPanel is the industry leader – time-tested, packed with features, great support. But relatively expensive.
CyberPanel is the new open-source alternative – free, almost matches cPanel, but has a learning curve.
For managed shared hosting servers, cPanel is recommended for its ease of use.
For unlimited hosting plans, CyberPanel provides significant cost savings.
On self-hosted servers, CyberPanel removes the recurring license fees.
Dedicated servers for a few big clients may still benefit from cPanel.
For reseller hosting platforms, cPanel offers strong branding and support.
Performance and scalability is great with both, cPanel slightly ahead.
Choose based on your budget and hosting model – pay more for cPanel polish or get CyberPanel for free.
Overall, CyberPanel delivers an extremely compelling open-source alternative to cPanel without breaking the bank, especially for hosts focused on unlimited shared hosting plans.
Read also: